This story made me ball like a baby 😭 What a tribute to his wife & new baby girl. Thanks for sharing your story with us Matt 🦸🏻‍♂️🦸🏻‍♀️
A birth story……..From a first time Father 💥
After my partner had started having contractions on Friday night she gave birth to our beautiful daughter Sunday afternoon.
After her waters broke at 12:30am on Sunday morning we called up the hospital and was asked to go in to be checked. After being checked she was told that she wasn't having full contractions yet.
So my partner came back out to the corridor, (where I have to wait) and told me that she had to either walk around for a few hours, go home or go onto the ward without me until she was 4cm dilated. She was a little worried because she felt like she was having full contractions.
We decided it was best for me to go grab a couple of hours sleep in the car on the car park while she went to the ward to be fully examined.
At this time she was told she was only 3cm dilated which after 2 days of contractions was a bit demoralising, especially after them being so painful.
After just over an hour I got the message I was waiting for. As the ward had a private room empty and hardly anyone else there, they agreed to let me in early so that I could be there with my partner.
Because of this I only missed an hour of the whole labour process at the hospital. And for that I will be eternally grateful to University Hospital Burton.
After 9 months of no dads to be at scans or midwife appointments and no antenatal classes to visit which was making me feel like I was missing out on my father to be journey. I could finally be there for my partner and my little girl when they needed me the most.
So……. Our birth plan…….
It was amazing. Candles, music, birth balls, birth pools, essential oils and minimum pain medication. Well that went out the window!
After 10 hours of my partner having really intense contractions and having to use gas and air and Pethidine injection to manage the pain we were moved to a delivery room in case she needed more pain relief.
After the Pethidine kicked in we moved to the delivery room and just like that within 30 minutes she was at 6cms and it was nearly time to rock and roll.
At this point she was offered a epidural. After going over our EBRAN and talking to the amazing midwives we decided to not have it and to go with just gas and air moving forward.
It was like that decision gave the little one a nudge and within the hour it was time to push! We were so glad that we didn't go ahead with the epidural, as it would have taken around a hour to set up and kick in etc to only work for the very end of the labour experience.
As she started to push they realised there was something wrong. Our little one was getting distressed and not making an entrance (or an exit) when she pushed. A doctor was called and the decision was made to have an assisted birth using forceps. The little one had got the cord trapped around her neck and she needed to make her grand entrance (or exit depending on how you look at it) quickly.
I won't go into all the details but after a few jiggles, a cut, a slight pull, 4 midwives and a doctor the head was out and it was up to my absolute trooper of a partner to finish what she started and pushed the rest of our little diamond out.
She needed a little help to get her first cry but after a minute she was laying on my partners chest looking absolutely gorgeous.
From the midwives point of view it was their time to clean up, stitch up, and give us some time to our self.
From our point of view it was time to cry, rest, and adore our new family member and feel what I can only describe as the most moving, thought provoking and absolutely breathtaking feeling that I have ever felt.
So to summarise.
Burton hospital midwifes and doctors are incredible. Not only did they look after my partner and daughter to be. They made sure that I was there, helping as much as I could and helping make important decisions when my partner needed me too.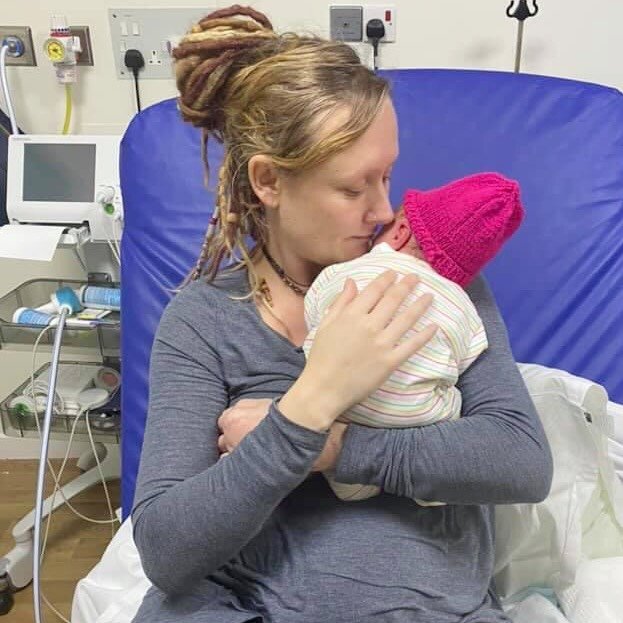 My partner Kyla (and yes I know I'm biased) is the most incredible, strong, amazing and frankly breathtaken person I have ever known and she has given me a little girl that has absolutely taken my breath away and will do for years and years to come .
To the people in this group (TBTBC Online) and the amazing Bump to Baby ladies. From a first time father. What you have shown me on your video course, Q&A's and posts made such a difference in not just my experience but Kylas. We stayed calm, used EBRAN and adapted to our new birth plan using what you guys have shown us. So all I can say is a huge thank you. Especially from a dad who has felt left out a lot of my families journey. This group has been a breath of fresh air and I really think more FTFs need to check you guys out!
Sorry for this massive story but I wanted to let you know that even with some antenatal experience, you guys and a couple of books you helped we managed to bring the most amazing little girl into our world.
Stay strong mother's and farther to be. You all got this!!!!
And without further a do. Please may I introduce you to Indi Aurora. Born at 13:56 at Burton University Hospital weighing 6lbs 14oz.
Thank you!
For more information about The Bump to Baby Chapter's Hypnobirthing and Antenatal Online Course. Videos, checklists, audios & a support group all created by a midwife to get you feeling excited and confident for birth.